Doga

-
Yoga for You & Your Dog!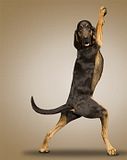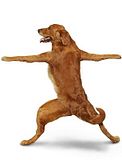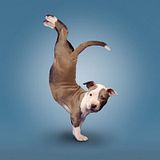 What is Doga?
Doga is a form of yogic practice which has been specially adapted for dogs; a practitioner of doga is known as a dogi. In a doga session, dogs and their owners work through a series of yoga poses together; the session may also include things like meditation and eye-gazing to strengthen the bond between human and dog.
The doga sessions allow dogs to work through poses including a series of stretches and massages that are believed to help improve the heart and digestion. And it also promises to foster a greater camaraderie between canine and owner.
While the concept of doga might seem slightly silly, if you interact with animals on a regular basis, you are probably already aware that they practice some form of yoga. Many animals, for example, run through a series of stretches when they get up in the morning, or display amazing feats of flexibility throughout the day. Much like humans, animals keep limber with stretches, and the experience of stretching is relaxing as well.
Our Doga classes are designed for everyone from novice dogis to experienced yogis.
Whether you choose to attend a group class or request a private class, You can look forward to a great way for you and your pet to bond, relax, and better your energy pathways through life together. Both dog and owner come out of class renewed, relaxed, and refreshed.
Our instructor Kelly is ready to find that inner peace with you and your dog.
Combines meditation, stretching, and massage for your dog

Relaxation – reduces stress

Aids in better digestion and helps lower blood pressure

Energy focus – helps with behavioral issues

We request that dogs must be well socialized and know basic commands.
CLICK HERE to visit our Class Schedule for Dates and Locations.